June 04: After initiatives like Top Ten Importers, Top Ten Producers, Top Ten Indian Women of Wine (WOW) and delWine Excellence Awards, Indian Wine Academy is proud to take lead in recognising India's young winemakers, the backbone of quality winemaking, and has introduced the biennial 'Top Ten Winemakers of India under 40', with this Article featuring first three winemakers in the List, writes Subhash Arora who feels that the 3-Part series was needed to do full justice- featuring Kailash Gurnani, Kaushal Khairnar and Vrushal Kedari in Part 1
Most people in the world of wine, including winemakers, would tell you that 90% of the wine is produced in the vineyards. There is a cliché that you can make bad wine from good grapes but never a great wine from poor grapes. However,
this is an oversimplifying Statement since we know that an excellent meal can be prepared only from the freshest and best ingredients, but it is ultimately the Chef who interprets the ingredients to give us the flavours, textures and freshness.
Various styles of wine are results of inputs from the winemaker and his personal experience and philosophy of winemaking. Styles that vary from powerful to elegant wines, young wines to age-worthy wines; even the traditional to new world styles are the handiwork of winemakers who are highly valued within the industry but not always enough outside. A consumer might occasionally hear of a Max Schubert as the winemaker who launched the Grange label from Penfolds Australia or the current winemaker Peter Gago. You may hear about Giacomo Tachis as the inventor of Sassicaia but perhaps have not heard as much about the current winemaker Graziana Grassini.
Every serious wine lover in India has heard of Michele Rolland as the (Consultant) winemaker for Grover Vineyards but not many would know about the resident winemaker Abhijeet Shendage. Piero Masi is the acclaimed Italian winemaker of Fratelli but not many outside the industry might know that Vrushal Kedari is a Napa educated winemaker
who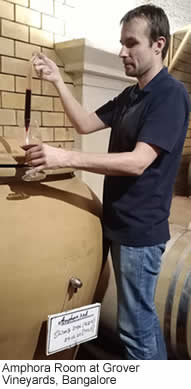 worked several harvests in California, Australia and the US before coming back to India and joining Fratelli and was involved totally in the production of TILT canned wines.
You have surely heard about Vallonne boutique winery in Nashik but do you know who their winemaker is? (Details in our future issue) Then we have Krishna and Uma Chigurupati, owners of KRSMA who are so painstakingly and passionately involved despite having a winemaker, that immersed in the winemaking process, from pruning to harvesting to fermentation, blending and ageing.
Our objective
The objective for initiating this project is to laud and recognise the hard work being done by these winemakers. Hopefully, they will rise and shine as they become more experienced. Some of them might one day achieve international recognition, or become producers themselves or might even be picked up by international producers as senior winemakers. They may even become like Stéphane Derenoncourt from Bordeaux or Alberto Antonini of Poggiotondo Tuscany and have several international wineries in their basket of clients.
World is truly the oyster for our brilliant young Top Ten Winemakers.
Young under 40
Although the current definition (pre-Corona) of being young is till the age of 65, we have kept our  criteria of 40 years as the outside limit for this List so we could focus only on the youth who will take us into the next levels of winemaking. So the likes of Piero Masi, Abhay Kewadkar, Pradip Pachpatil, Rajesh Rasal etc. are automatically out. Thus, we had to keep at bay Neil Fernandez, the winemaker (red wine) of Sula or Ashok Patil who had done wonders at Alpine winery. Even Gorakh Gaikwad, who was the winemaker at Sula and now managing the Kadu (Sula Heritage) Winery in Karnataka, had to be excluded as he turned 40 in April this year.
With a Little Help from my friends
Although I must take the bricks and bouquets for the concept and selection of the Top Ten, I have been immensely helped and guided by Ajoy Shaw DipWSET and Sumedh Singh Mandla DipWSET who guided me in setting the direction and criteria and made sure I consider each and every winemaker in India.
Sumedh is the CEO of VBev and had exposure to winemaking while the CEO of Grover Zampa. Ajoy was the Chief Winemaker at Sula Vineyards till he branched out and became a consultant winemaker and is greatly in demand. He boasts a long list of wineries including Vintage / Reveilo, KLC wines, Desaal wines Asav wines, Resvera (Jamun) Winery, Seven Peaks winery and Bidadi Valley Beverages, Karnataka, besides having a couple of clients in Nepal.
They took time out to work with me closely in the project-especially Ajoy who was selected as The Best Winemaker in India by public voting, at the first delWine Excellence Awards (2016) held at Pullman New Delhi Aerocity. I am grateful also to several wine professionals, producers, winemakers, journalists and others who gave me the relevant inputs when requested.
Not only grape wine
Although it might appear that we have selected winemakers from the (grape) wine industry only but rest assured, due diligence has been done also in the fruit wine industry which unfortunately is still nascent though with a great future. In fact, the winemaker's role may even be more important for fruit wines as a lot of work needs to be done in this segment with not many benchmarks or resources available.
Here we go with the first 3 in the list-chosen randomly. Final list will be presented in the alphabetical order in the next two editions of delWine but next time around we may have the selection in order of Merit, competence, achievement and standing in the industry with a professional jury helping with the final selection, after pre-announced criteria:
Kailash Gurnani (York Winery)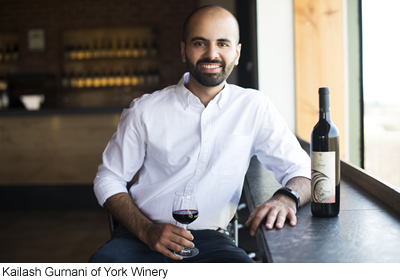 Kailash Gurnani 
University of Adelaide. The 32-year young winemaker had diverse work experience in both- the extremely small and large wineries. He had the fortune of working in sparkling, white and red winemaking with specialists in their respective fields. He started work at Hardys Tintara Winery in McLaren Vale and followed it by working as the Cellar Hand/Intern winemaker (Sparkling Wines) for Domaine Chandon at Yarra Valley, Australia where he learnt about the sparkling base-winemaking.
He had good exposure in overall managing everything during a harvest- right from vineyards to the winery at Zambartas Wineries, Limassol, Cyprus. Special focus on traditional French winemaking in concrete vats and long red wine ferments with max extraction was what he experienced at the Bessa Valley Winery Bulgaria, owned by Count Stephan von Neipperg who also manages the family-owned Chateau Canon La Gaffelière estate in Saint-Emilion.
Kailash believes that winemaking in India is particularly challenging. 'Our climate, vineyard cycle, growing conditions, etc. are all incredibly unique. Whilst there were a lot of things from my time overseas that I could bring with me to India, there were an equal number of things I had to figure out on my own,' he says.
Almost the entire York portfolio has been crafted by Kailash. There was a special focus on Arros, H block, Shiraz Viognier, Cabernet Merlot & their sparkling wines as they were all created from scratch.
It takes years to design the style of a wine and it is no mean achievement that all these wines are established and loved by the consumers as much as he loves producing them. Arros is a big ripe, jammy & rich wine that is a fusion of Barossa & Bordeaux. H Block is a simple, lightly oaked Chardonnay that aims to showcase the typicity of the variety. The York Sparkling Wines are traditional- method long aged wines that showcase good primary, secondary & tertiary flavours. The Shiraz Viognier & Cab Merlot are very contrasting styles-the former being a fruit forward Rhone style while the latter is an earthy and meaty mature style. Both have generous flavour, tannins & length.
Kaushal Khairnar (Chandon India)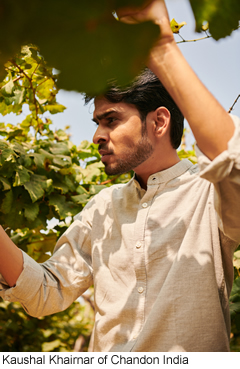 Born in Nashik wine region – the 30-year old Kaushal Khairnar grew up surrounded by grape growers and wine producers. His innate curiosity led him to attend an introductory winemaking course for three years starting in 2008 at Gargi Agriculture Research and Training Institute (GARTI) Nashik. During this three-year course, he also had a life-changing internship at Nashik's Vallée de Vin (Zampa) winery, which inspired Kaushal to consider winemaking as a full-time career.
After his B.Sc. in Winemaking from GARTI Kaushal went to Montpellier, France and did his Master's Degree in Viticulture and Oenology from Montpellier SupAgro University where the course is carried out in conjunction with Instituto Superior de Agronomia in Lisbon, Portugal.
In 2015, Kaushal was selected by 'Early Career Winemaker Programme' at Chandon, and earned an opportunity to play Assistant Winemaker at their India and Brazil wineries, for a year each. After three years of hands-on experience, Kaushal was promoted to his current position as Winemaker at Chandon India in 2018.
Additionally, Kaushal has held diverse positions in winemaking at the production facilities of several well-known wineries across the globe. He has worked 8 grape harvests in different countries, including India, France, New Zealand, USA and Brazil. Each experience has elevated his knowledge of cultivating indigenous varietals, while optimising the full potential of the terroir, resulting in fine wines that embody the characteristics of the region.
From managing every aspect of winemaking at Chandon, right from the grape harvest to the final disgorgement of bottles, Kaushal's role extends to the brand's overall winemaking strategy and leading the essential winery operations. Currently, he is focusing on using existing tools of wine-making for different purposes such as using ion exchange, different clarifying agents, and use of culture yeast. Kaushal is passionate about sustainable winemaking and looks forward to exploration in the genre, and the implementation of new, modern practices at Chandon India.
Winemaking is a long, natural process for Kaushal, that requires little human intervention, but each winemaker guides the journey from grape to bottle with his expertise, and perfected techniques. In his spare time, Kaushal is a voracious reader. When he's not perfecting the winery processes and offerings, he is honing his curiosity in astronomy.
Vrushal Kedari (Fratelli Vineyards)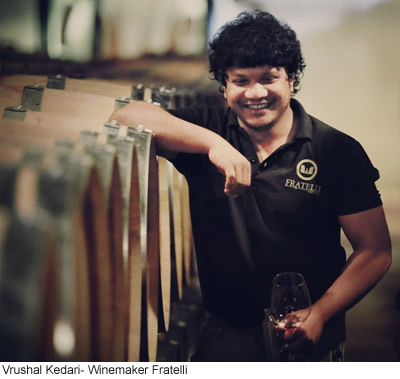 I had met Vrushal Kedari, a few years back at the Fratelli winery when I spent the weekend with their winemaker Piero Masi who found him very dynamic and progressive, someone he could count on when he was not in India.
Vrushal has always been fascinated by the art of wine making. He did his Master's Degree in Life Sciences majoring in Fermentation Technology from Mumbai University. He interned at Sula Vineyards before he went to the US to pursue the post graduate Degree from Napa School of Enology.
He worked with Ferrari- Carano winery in Sonoma and was an integral part of the harvest in other international regions like Indevin winery in New Zealand followed by Benziger winery in Glen Ellen, Sonoma County.
He has been working with Fratelli Wines after returning from overseas since 2012 as a winemaker under the expert guidance of Piero Masi 'whose wine making style is different from others in India, says Vrushal. Piero is an artist who believes in the neoclassical style of wine making. I have learnt a great deal from Masi', he says.
Fratelli and Late Kapil Sekhri gave him an opportunity to work with legends like late Steven Spurrier with whom he was involved in making M/S range of wines and Jean Charles Boisset for making JCB and J'NOON range of premium wines. He has been fortunate to have been given complete freedom in working, especially in the Tilt Can wine project.
'My passion for wines and the challenges we face in trying to create a perfect wine every year, makes me feel fortunate that I am a part of this beautiful industry', he says. Continued…..